State Aid And The High Cost Of Local Public Services In Some Communities The Need For More Equalization
Release Date:
July 1984 (58 Pages)
Posted Date:
February 21, 2018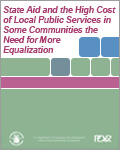 This working paper describes the disparate fiscal resources and expenditures of Massachusetts' cities and towns. The authors propose a more equitable application of state aid to municipalities.

This report is part of the collection of scanned historical documents available to the public.