Task Force Report on Metropolitan Development
Release Date:
September 1962 (112 pages)
Posted Date:
March 5, 2020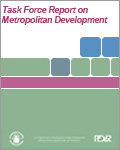 Prepared by the Office of the Administrator of the Housing and Home Finance Agency, for use by then-administrator Robert C. Weaver, this historic report details the changing mission and direction of the agency. The task force that compiled the report also provided recommendations for increasing the agency's impact on new metropolitan regions.

This report is part of the collection of scanned historical documents available to the public.