The Baby Boom And The Squeeze On Multigenerational Households
Release Date:
July 1983 (19 Pages)
Posted Date:
February 21, 2018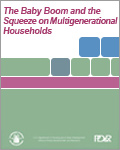 This working paper describes long-term trends in American household formation. The authors give special attention to the effects of the large baby boom generation on household formation, the housing situation of the elderly, and factors such as preferred dwelling size.

This report is part of the collection of scanned historical documents available to the public.