Urban Homesteading Handbook
Release Date:
March 1990 (334 pages)
Posted Date:
March 23, 2020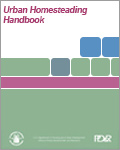 The first revision of HUD Handbook 6400, this manual provides information regarding HUD's Urban Homesteading Program. The 334-page document provides an overview of the program, an explanation of HUD staff responsibilities, details about the program's design and requirements, and protocols regarding the funding of HUD-approved urban homesteads and the conveyance of HUD-owned property to program participants.

This report is part of the collection of scanned historical documents available to the public.