This Way to a Better Home: A Training Manual Designed for Use with Residents Moving into New or Renovated Apartments or Homes
Release Date:
November 1972 (98 pages)
Posted Date:
March 23, 2020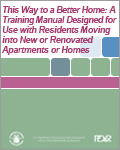 This historic pamphlet, produced by the consumer services division of the Baltimore Urban League with the support of the Soap and Detergent Association, is a guidebook for individuals and families who are moving to a new home. Originally intended for households moving into public housing, the manual provides instruction in four key areas: readying the household for a move; determining what facilities are available and what rules must be followed in the new home; making the new home attractive on a small budget and; maintaining the home. This publication was distributed nationally through housing authorities and urban leagues.

This report is part of the collection of scanned historical documents available to the public.