Community-Informed Design Award
The Community-Informed Design recognizes design that supports physical communities as they rebuild social structures and relationships that may have been weakened by outmigration, disinvestment, and the isolation of inner-city areas.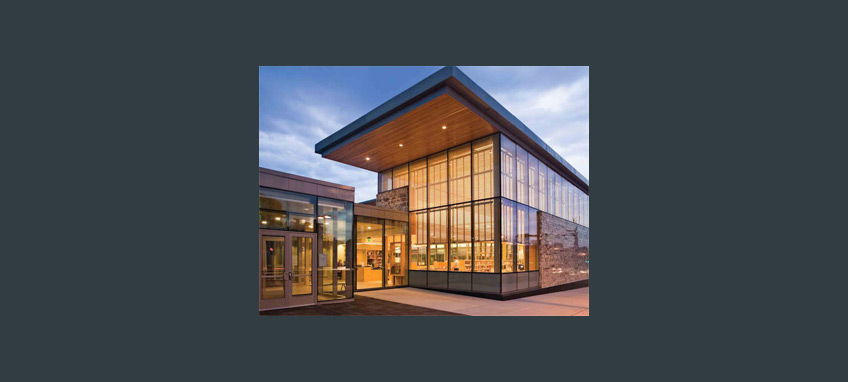 Boston Public Library, Mattapan Branch: Boston, Massachusetts.
With significant amounts of glass looking onto a major urban street, this stone and brick building creates a strong civic presence that is decidedly open and inviting to the community. The building's interior reflects this same sense of invitation in each of its major spaces. The main Reading Room, with its high ceiling, warm wood shelving, and "sun grillage," creates a welcoming space for adults to work quietly. The Children's Room and Young Adults' Room each provide colorful and active spaces flanking an outdoor courtyard. A Community Room, wrapped in warm wood, allows the library to serve the community beyond library hours. Reflecting the importance of the teenage population to the local community, this library provides the largest young adults' space of any regional public library. Its Young Adults' Room has been designed as an oasis, a lively space with robust technology encouraging heavy use after school and during the weekends.
Owners/Developers
City of Boston

Architect
William Rawn Associates, Architects, Inc.

Creating Community Connection Award
This award recognizes projects that incorporate housing within other community amenities for the purpose of either revitalization or planned growth.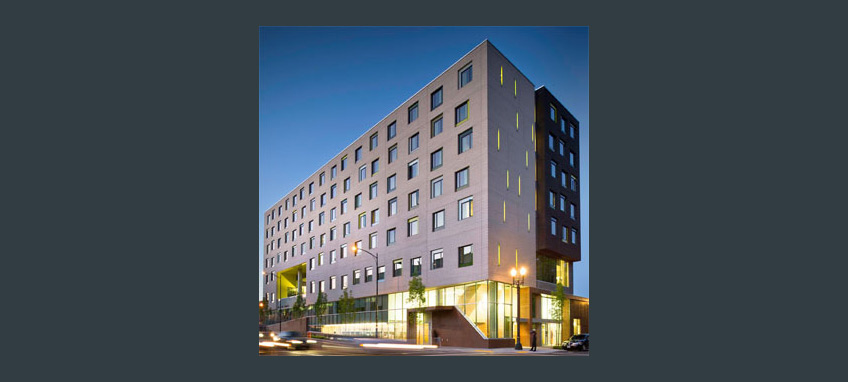 Bud Clark Commons: Portland, Oregon.
Through a combination of low-income housing tax credits, urban renewal funding, and HUD stimulus dollars, Bud Clark Commons, a service and shelter for the homeless project opened in summer 2011. It is now setting a new standard for services by joining permanent supportive housing and temporary shelter with a community resource center. Bud Clark Commons offers a day center with access to services, a temporary shelter for men, and apartments for homeless adults seeking permanent supportive housing. Centrally located at the gateway to downtown Portland and adjacent to light rail, buses, and an historic train station, this project combines the rigorous programmatic requirements of a coalition lead by the municipal client, a progressive design approach, and sustainable building practices. The building has a LEED Platinum certification from the U.S. Green Building Council, and the energy-efficient technologies are estimated to achieve savings of $60,000 per year. Using the Housing First approach, the mission of Bud Clark Commons is to provide a continuum of services to help transition homeless individuals from an unstable condition to a permanent living arrangement.
Owners/Developers
Home Forward

Architect
Holst Architecture

Excellence in Affordable Housing Design
This award recognizes architecture that demonstrates overall excellence in terms of design in response to both the needs and constraints of affordable housing.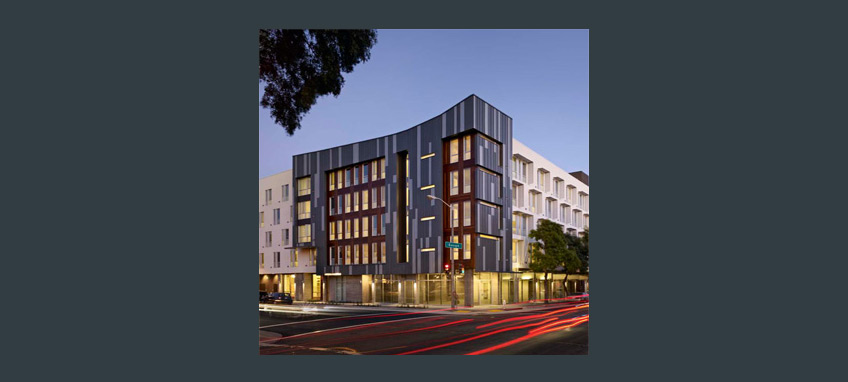 Drs. Julian and Raye Richardson Apartments: San Francisco, California.
In the heart of San Francisco, the project remediates the site of a collapsed freeway. A mixed-use Single Room Occupancy building, it provides 120 permanent supportive studio apartments for formerly homeless residents, many of whom have mental and physical disabilities. The design is responsive to their needs, balancing independence with security, maximizing a constricted site to meet program needs, and creating attractive homes and community spaces. This five-story structure draws inspiration from its surroundings, both standing out and fitting in with the neighborhood fabric. Focus on the natural beauty of materials — zinc, concrete, and salvaged wood — and on the iconic corner, entry, and shared spaces has created a building with a strong identity and sense of place. A landscaped courtyard, second-level deck, and roof garden provide social opportunities and address community concerns about loitering. Well-lit sidewalks, permeable paving, plantings, and bike racks make for a safe, active addition to the streetscape. The retail corner is to house a social-service bakery/café that will offer jobs and job training to residents.
Owners/Developers
Mercy Housing California Community Housing Partnership

Architect
David Baker + Partners Architects