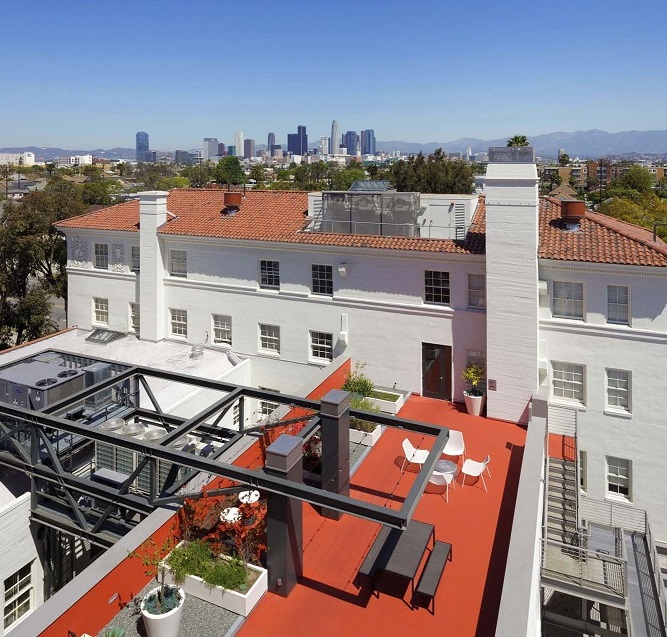 Architect
Koning Eizenberg Architecture, Inc.

Excellence in Affordable Housing Design
This award recognizes architecture that demonstrates overall excellence in terms of design in response to both the needs and constraints of affordable housing.
28th Street Apartments: The 28th Street Apartments are sustainable, affordable, supportive housing units located in a restored YMCA building and an adjacent newly constructed building in an ethnically mixed and chronically underserved neighborhood in south Los Angeles. The YMCA building, which was in a state of disrepair at the time of its purchase in 2007, is listed on the National Register of Historic Places. Dating back to 1926, the building was designed by noted African-American Architect Paul R. William and features Spanish Colonial revival masonry. The YMCA's renovation involved restoring the exterior of the building, adapting the interior for housing units, and adding photovoltaic panels on the south façade and solar hot water panels on the roof to help the building achieve LEED Gold certification. Together with a newly constructed, five-story, stucco-clad building, the renovated building now offers 48 supportive housing apartments and employment training for neighborhood youth. Supportive housing units include 23 units for residents at 30 percent of the Area Median Income (AMI), 7 units for residents at 40 percent of AMI, and 18 units for residents at 50 percent of AMI. Thirty of the 48 units are reserved for homeless or mentally ill individuals.