Twenty-First Annual Report Federal Housing Administration
Release Date:
January 1956 (137 pages)
Posted Date:
March 19, 2018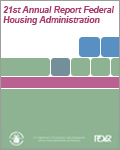 This report reviews the activities of the Federal Housing Administration for the year 1954. The document outlines the functions of the FHA and provides an overview of its programs, organizational state, investigations, objectives, and policies.

This report is part of the collection of scanned historical documents available to the public.