Activities and Services for Children in FPHA Projects
Release Date:
August 1943 (22 pages)
Posted Date:
July 2, 2020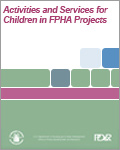 This historic bulletin discusses activities and services for child residents of FPHA war housing projects. Intended for use by local housing authorities and managers, the bulk of this publication is dedicated to the minimal professional standards for the operation of programs for the care of children of employed mothers. Other topics discussed include group care of children by age cohort, and daycare for children in foster care settings.

This report is part of the collection of scanned historical documents available to the public.