Budget Estimates on Equipment for Child Service Facilities for Family Dwelling Projects
Release Date:
March 1943 (8 pages)
Posted Date:
April 19, 2020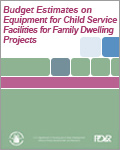 This historic bulletin provides budget estimates for items of equipment needed to furnish child service facilities in public housing developments. The publication was intended for internal government use only.

This report is part of the collection of scanned historical documents available to the public.