Community Relations in Urban Low-Rent Housing
Release Date:
May 1940 (27 pages)
Posted Date:
April 24, 2020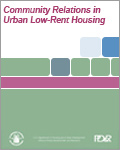 The first report issued by the National Association of Housing Officials' Committee on Community Relations in Housing Developments, this historic document examines community relations in urban public housing developments and provides policy recommendations for housing authorities. The report discusses the impact of community facilities, public space, and programming in public housing developments.

This report is part of the collection of scanned historical documents available to the public.