Construction Contract Documents for Trailer, Temporary, or Permanent Defense Housing Projects
Release Date:
March 1954 (342 pages)
Posted Date:
June 5, 2018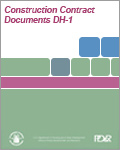 This bulletin was produced to advise public housing authorities and others on the production of construction contract documents for use in defense housing projects. The bulletin contains templates and instructions for the proper production of such contracts.

This report is part of the collection of scanned historical documents available to the public.