Building Affordable Homes: A Cost Savings Guide for Builder/Developers
Release Date:
January 1985 (33 pages)
Posted Date:
January 8, 2021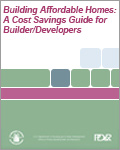 This historic guidebook is a cost-saving reference for combination home builder-developers. The guide was a product of HUD's Joint Venture for Affordable Housing program, a public-private partnership launched in 1982 to investigate the promotion of housing affordability through regulatory reform.

This report is part of the collection of scanned historical documents available to the public.