Estimate of Annual Contributions: Fiscal Year 1947
Release Date:
1947 (34 pages)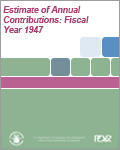 This historic report provides a summary of federal contributions to the budget of the Federal Public Housing Authority in the fiscal year of 1947. For the following year, the authority requested $17 million dollars in order to continue providing low-rent housing in post-war America.

This report is part of the collection of scanned historical documents available to the public.