Mortgagees' Handbook: a Section 203 Guide for FHA Approved Mortgagees
Release Date:
September 1946 (271 pages)
Posted Date:
June 22, 2018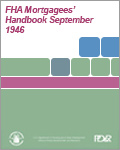 This historic handbook was intended as a reference source for approved mortgagees operating under Section 203 of the National Housing Act. The manual describes the process of applying for mortgage insurance, conditions of approval, and policies involved with handling, transferring, paying, and defaulting upon insured mortgages.

This report is part of the collection of scanned historical documents available to the public.