Financial Abstracts on PHA Operations as of March 31, 1948
Release Date:
March 1948 (12 pages)
Posted Date:
April 19, 2020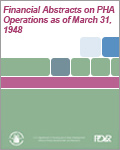 Prepared by the Office of the Comptroller of the U.S. Public Housing Administration, this abstract provides an overview of key financial data for PHA administrative expenses and for its five principal programs. The programs are: the Public War Housing Program; the Homes Conversion Program; the Veterans Re-Use program; the Subsistence Homestead and Greenbelt Towns program; and the Defense Homes Corporation Program. More complete data was made available in the administration's quarterly financial report for 1948.

This report is part of the collection of scanned historical documents available to the public.