Floor, Wall, and Ceiling Coverings, Part 1
Release Date:
January 1958 (53 pages)
Posted Date:
April 3, 2018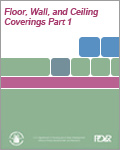 This first-edition textbook, compiled for use by students enrolled in classes through the International Correspondence Schools, discusses the available materials for the construction of floors, and the factors involved in making a selection. This document is part one of two.

This report is part of the collection of scanned historical documents available to the public.