Group Laundries and Their Operation
Release Date:
January 1949 (36 pages)
Posted Date:
July 20, 2020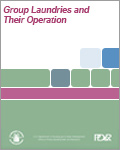 This historic bulletin, written for use by local housing managers, describes the problems involved with operating central tenant laundry facilities and potential solutions to these problems. The publication discusses information gathered via a survey of 272 tenants and staff in 35 developments that operate group laundry facilities including wash rooms and drying yards. The problems reported by respondents were consistent across developments and regions. One of the surveyed housing projects was a war housing development.

This report is part of the collection of scanned historical documents available to the public.