The Current Housing Market Situation: Seattle-Everett, Washington as of April 1, 1974
Release Date:
October 1974 (15 pages)
Posted Date:
November 18, 2019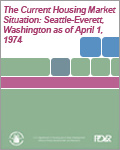 Prepared by HUD's Economic and Market Analysis Division, this partial historical report details the situation of the housing market in the Seattle-Everett, Washington housing market area as of April 1, 1974. Note that the pages of this document are out of order.

This report is part of the collection of scanned historical documents available to the public.