Housing Markets: Selected References
Release Date:
January 1967 (23 pages)
Posted Date:
December 17, 2020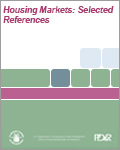 This historic publication is a reference document, compiled by HUD library staff, of texts related to housing markets and housing market analysis. Intended for interested non-experts, the publication includes both texts sufficient to provide a general overview of the topic, and market-specific analyses published no earlier than 1965.

This report is part of the collection of scanned historical documents available to the public.