Land in Transition: Programs of the U.S. Department of Housing and Urban Development
Release Date:
June 1967 (15 pages)
Posted Date:
December 31, 2020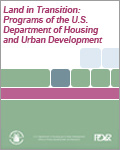 This historic document, produced for the 1967 conference "Soil, Water and Suburbia: a Conference on Land and Water Management in Fringe Area Development," provides information about six federal programs related to suburban development. The 15-page publication includes an appendix with a list of additional programs of possible interest to city and county governments, planners, and other development professionals.

This report is part of the collection of scanned historical documents available to the public.