Livable Homes of Southern Pine
Release Date:
January 1945 (15 pages)
Posted Date:
August 1, 2018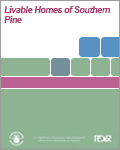 This book of house plans was published by the Southern Pine Association to assist homebuilders constructing dwellings out of pine. The publication offers suggestions regarding planning, materials, and construction features.

This report is part of the collection of scanned historical documents available to the public.