Moving Up to the American Dream: From Public Housing to Private Homeownership
Release Date:
July 1996 (32 pages)
Posted Date:
February 2, 2021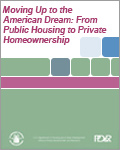 This historic booklet details cases of individuals that achieved homeownership despite previously living in public housing, and discusses the efforts of public housing authorities, resident organizations and other partners working to help more families achieve ownership of their own homes. This publication was written in honor of the launch of the National Homeownership Strategy, which sought to help 25,000 public housing residents become private homeowners.

This report is part of the collection of scanned historical documents available to the public.