National Housing Policies Since World War II: a Comparison of Sweden, West Germany, United Kingdom, and the United States
Release Date:
January 1960 (412 pages)
Posted Date:
April 1, 2019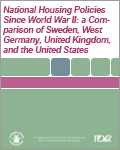 This 412-page historic study compares the national housing programs and policies of the United Kingdom, West Germany, Sweden, and the United States from 1945 to 1958. The document provides historic background for each nation, an evaluation of changes in the housing supply after WWII, and a review of postwar government housing programs.

This report is part of the collection of scanned historical documents available to the public.