Operation and Maintenance Handbook
Release Date:
December 1943 (555 pages)
Posted Date:
June 9, 2020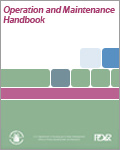 This historic manual provides instruction on the operation and maintenance of public housing developments, for use by local housing authorities. The publication includes maintenance checklists, inspection forms, sample form letters to tenants, sample contract documents, and more. Published in a loose-leaf format to accommodate revisions, this 1943 edition contains a number of pages instructing the removal, revision, or replacement of pages issued in previous editions.

This report is part of the collection of scanned historical documents available to the public.