Performance of Mobile Homes Data Acquisition and Analysis Methodology
Release Date:
February 1975 (76 pages)
Posted Date:
December 17, 2020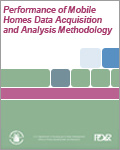 This historic interim report, prepared by the National Bureau of Standards (NBS) for use by HUD's Office of Policy Development and Research, provides the preliminary results of a project in which NBS personnel recorded inspection data from several hundred mobile home units deployed in Pennsylvania as emergency housing in the wake of Hurricane Agnes. The NBS researchers utilized computers to record the data and track physical problems with the units.

This report is part of the collection of scanned historical documents available to the public.