Public Relations of Local Housing Authorities: a Committee Report on a Vital Function of Local Public Housing Agencies
Release Date:
July 1939 (58 pages)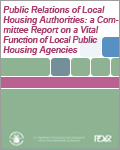 This historic report, prepared by the National Association of Housing Officials' Committee on Public Relations of Housing Authorities, discuses the importance of public relations for local housing authorities. The authors recommend best practices for engaging with the public, and comment on a number of possible problems that a housing authority may encounter.

This report is part of the collection of scanned historical documents available to the public.