Stemwall Foundations for Residential Construction
Release Date:
March 1993 (74 pages)
Posted Date:
January 27, 2021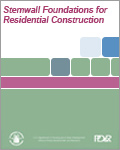 This historic publication, prepared for HUD's Office of Policy Development and Research by the National Association of Home Builders' research arm, discusses the use of monolithic stemwall foundations – foundations whose walls are supported directly on the soil without a separate spread footing – for basement, split-level, and crawl space homes. The authors discuss the potential cost savings and practical problems associated with stemwall foundations, and provide design information for consideration by U.S. model code bodies.

This report is part of the collection of scanned historical documents available to the public.