Temporary Local Authority Management Manual for War Housing
Release Date:
January 1942 (196 pages)
Posted Date:
September 13, 2018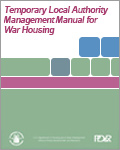 This historic document is an abbreviated manual for local authorities tasked with managing war worker housing. It is comprised of materials re-printed from the Local Authority Management Manual, initially published in February 1942.

This report is part of the collection of scanned historical documents available to the public.