The Facts About Public Housing: an Orientation Study Outline
Release Date:
November 1946 (41 pages)
Posted Date:
July 20, 2020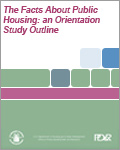 This historic bulletin provides an overview of the state, number, age, and circumstances of public housing developments in the United States. The publication additionally addresses topics including the demand for affordable rental housing, the incapacity of the private market to meet this demand, the problems faced by contemporary public housing communities, and potential solutions to these problems.

This report is part of the collection of scanned historical documents available to the public.