Report on Operations Under Budget Circular No. A-45
Release Date:
January 1959 (30 pages)
Posted Date:
August 7, 2018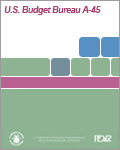 This publication is a budgetary report to the U.S. Congress, relaying the housing-related activities and expenditures of 54 government agencies and bureaus.

This report is part of the collection of scanned historical documents available to the public.