User's Guide to HASE Data, Vol. 1: Overview – Housing Assistance Supply Experiment
Release Date:
April 1982 (80 pages)
Posted Date:
January 21, 2021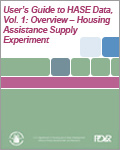 This historic report is a guide to research files compiled from field surveys conducted as part of the Housing Assistance Supply Experiment, a 10-year research experiment conducted by the Rand Corporation on behalf of HUD in the housing markets of Green Bay, Wisconsin and South Bend, Indiana. During the experiment, low-income households were provided with monthly cash payments in order to offset their housing costs. The experiment ultimately made payments to 20,000 households and the comprehensive findings, titled "Experimenting with Housing Allowances," was published as a book. This report is the first of three volumes describing the experiment's 40 research files.

This report is part of the collection of scanned historical documents available to the public.