User's Guide to HASE Data, Vol. 3: The Program Files – Housing Assistance Supply Experiment
Release Date:
April 1982 (52 pages)
Posted Date:
January 21, 2021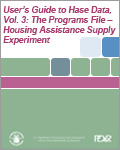 This historic document, part of the Rand Corporation's body of publications related to the Housing Assistance Supply Experiment (HASE), is a user guide describing 40 data files gathered from 1974 - 1979. Eight of the files pertain to administrative information, while the remaining 32 consist of survey data gathered in the surrounding housing markets of Brown County, Wisconsin and St. Joseph County, Indiana. This report is the final volume in a three-volume series.

This report is part of the collection of scanned historical documents available to the public.