The Housing Awakening
Release Date:
December 1910 (57 pages)
Posted Date:
March 20, 2020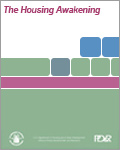 This historic publication, prepared by the National Housing Association, is a collection of essays addressing the issue of slums in the United States. The 57-page pamphlet features segments written by a range of authors from the public and philanthropic sectors in cities throughout the country. The authors make a case for addressing substandard housing, and detail strategies employed to do so across the nation.

This report is part of the collection of scanned historical documents available to the public.