Secretary's Reference Book
Release Date:
November 1968 (137 pages)
Posted Date:
March 5, 2020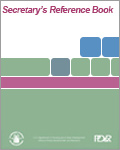 This historic publication, prepared by the Department of Housing and Urban Development, functions as a reference document for incoming executives. The 137-page publication summarizes HUD's organizational structure, function, and programs, and provides details about department staff and key upper-level personnel. This text is the first volume in a set, with subsequent volumes detailing information including the department's budget and legislative authorizations.

This report is part of the collection of scanned historical documents available to the public.