The Demographic Factor And Urban Decline A Cross-National Comparison
Release Date:
July 1984 (48 Pages)
Posted Date:
February 21, 2018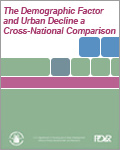 This working paper examines and compares demographic changes in the 25 member nations of the Organization for Economic Cooperation and Development (OECD). The publication concludes with predictions regarding urban decline, central-city neighborhoods, and future trends in the housing market.

This report is part of the collection of scanned historical documents available to the public.