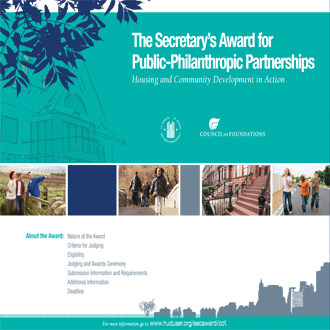 The Secretary's Award for Public-Philanthropic Partnerships - Housing and Community Development in Action
The Secretary's Award for Community Foundations recognizes excellence in public-philanthropic partnerships that have both transformed the relationship between the sectors and led to measurable benefits in terms of increased economic employment, health, safety, education, sustainability, inclusivity and cultural opportunities, and/or housing access for low and moderate-income families. The award is presented by the Department of Housing and Urban Development in partnership with the Council on Foundations' Public-Philanthropic Partnership Initiative.
In the United States, community foundations serve tens of thousands of donors, administer more than $49 billion in charitable funds, and address the core concerns of more than 725 communities and regions.
Not only are community foundations a valuable repository of local wealth resources held in perpetuity, they are led by a local board of trustees and staff that provide in-depth knowledge of community challenges, opportunities, and broader resources. This facilitates the foundation's capacity to provide leadership on housing and community development while guiding donors toward impactful investments in housing solutions.
By strengthening the connection between the Department of Housing and Urban Development (HUD) and community foundations, this award highlights the power of collective impact that can be achieved through public-philanthropic partnerships between government entities and foundations.